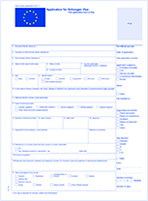 How to Apply for a Schengen Visa
In June 1985, seven EU countries signed the Schengen Agreement. This enabled the removal of internal border controls between the Schengen member states, therefore allowing easy movement within the European Schengen area. It also harmonized the visa obligations between all Schengen member states, thus making it so much easier for tourists, students or travelers on business to visit multiple European countries for a period of less than three months.
As of date, there are 25 member countries including Austria, Belgium, Czech Republic, Denmark, Estonia, Finland, France, Germany, Greece, Hungary, Iceland, Italy, Latvia, Lithuania, Luxembourg, Malta, Netherlands, Norway, Poland, Portugal, Slovakia, Slovenia, Spain, Sweden and Switzerland.
Traveling in Europe has definitely become easier, thanks to the introduction of the Schengen Visa.

About the Schengen Visa
The Schengen Visa is issued to any foreign citizen whose nationality requires a Schengen Visa. This enables the passport holder to enter freely into any of the 25 member countries without obtaining a separate visa for each country.
This only applies to individuals who are looking to visit one or more Schengen countries either as a tourist, a student or a traveler on business, for a period of no longer than three months. If you intend to stay in any of the Schengen countries for a period of longer than three months, the Schengen visa no longer applies.
How to Apply for the Schengen Visa
Step 1: Identify the country or countries you will be travelling to.
It is particularly important to know which countries you are travelling to because it determines where and how you are going to send your application.
If you are intending to visit just one Schengen country, you will need to apply for the Schengen visa directly with the embassy or consulate of that particular country.
If you are intending to visit two or more Schengen countries, your application must be sent to the embassy or consulate of the country that shall be your main destination.
If you are intending to visit several Schengen countries, but do not have a main destination, you should apply for the visa at the embassy or consulate of the first Schengen country on your travel itinerary.
Step 2: Fill out an application form beforehand to obtain a Schengen visa. You can download and print off the form online.
Step 3: Prepare all the requirements for your Schengen visa application.
Depending on the consulate or embassy, you required to show the following documents:
A valid national passport
Evidence showing the purpose of your trip (e.g. hotel reservations)
Proof of medical insurance
A round-trip travel ticket
Proof of funds

When applying for a Schengen Visa, the embassy or consulate requires you to provide current bank statements amongst other documents. They need to assess whether you have sufficient financial means of support during the duration of your stay.
Step 4: Check the processing time to ensure you get your Schengen visa on time. The processing time varies per embassy, so it is important to take the processing time into account when planning your trip.